Lessons
All ages welcome!! We have different types of lessons for all ages. If your just wanting to come ride and have fun we have our fun classes for $30 for the hour. These classes teach you all the basics of saddling and unsaddling a horse and basic western riding. All the safety you need to know and more. We have a great time and have fun! Ready to learn English/Dressage/Hunter jumping and Western Show? We have that too! Once to twice a week we do a class for $40 for one hour. What about barrel racing? Want to learn how to barrel race? We have multiple classes learning how to barrel race. We go to local and away shows also. Many many options!! Our pricing is $15 for 5 and under $30 for our fun classes and $40 for our english and barrel classes. All classes are 1 hour long unless we say differently.
Camps
Time for some camps!!! This will be our next camp. This camp is to help pay for all the horses shots and coggins. During this camp we will be learning more about training horses and learning how to read them. There will be a lot of working on the ground and of course in the saddle also. The key for this camp is to teach you how to speak the language of a horse and to understand what they are thinking. Camp will be 10-2pm every day Monday- Friday. Friday we will have a show and tell for the parents 12-2 if you can attend so you can see what all they have learned during the week. There is a $50 hold to hold your spot. The total cost is $200 each child. Come join us for some awesome fun and learning!

Our first summer camp for 2020 Will be 6/8-6/12. This camp we will be learning how to get a horse in shape. How to build up those muscles on your horse and on you. Yes I said on you too! LOL! Time to get in shape!! It is so important to stay in shape both horse and rider! Sounds interesting right? Work? Maybe a little but its fun work as we all love horses and doing things with and for our horses is always fun. Deposit $100 hold and the camp price is also $200. We will also have a fun party day on Friday if parents and friends want to join from 12-2pm. Get ready to have fun and learn!!

Clinics
Shots, Coggins, Feet, Teeth, eyes, ultra sounds and more. These clinics are not just about learning how to ride but everything you need to learn about horses. Have you ever seen an ultra sound on a horse? How about floating the teeth?? Exactly! Unlike most facilities, here you will learn more about the horses anatomy in addition to western riding. The cost is $80. Pack a lunch. Times vary.
Leasing
We offer 2 different leasing programs.....
$150 a month. This is where you may choose 1 day a week to bring your child to ride. This also includes one lesson a month. This allows you to show at our local shows.
$250 a month is where you can ride 2-3 times a week and 1 lesson a month. This lease also allows you to show.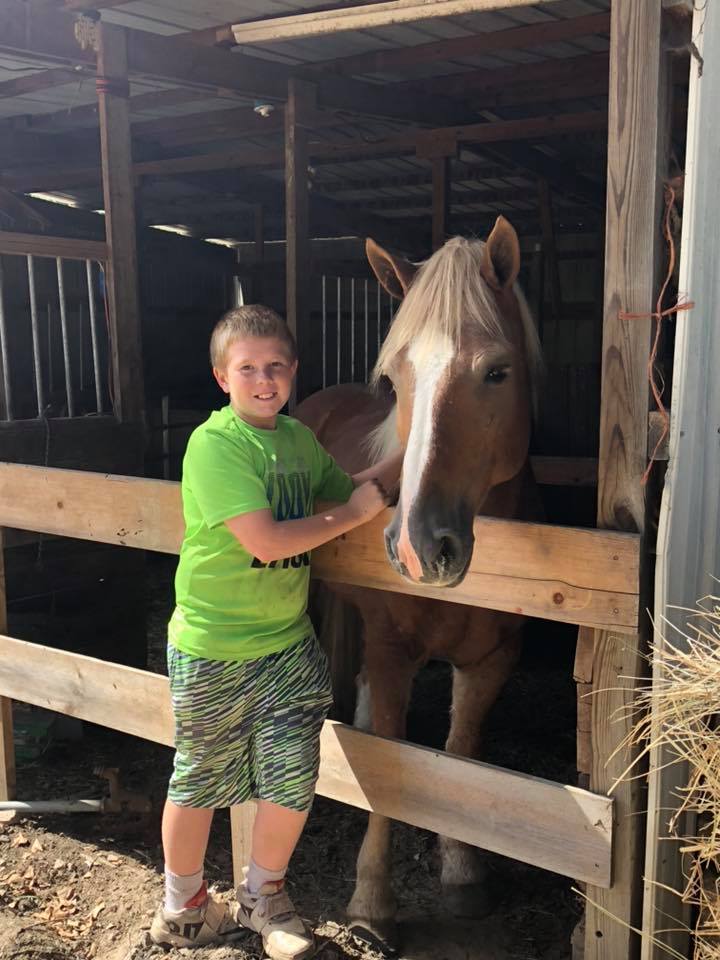 Boarding
We do offer boarding for geldings and mares. There is space for one stallion but price is different. Our Board is $250 a month. This includes feeding, here for the vet, farrier, any other special needs and turn out of course. You bring your feed and hay. We do have full board options that gives your horse there own stall and they get turned out pending on weather. We have a small riding arena and 25 acres out back with some small trails. We also go trail riding off property from time to time if you would like to join us. We do have parking for your trailer. Call or text for more information.
Mini Petting Zoo & Birthday Parties
We have a small petting zoo on our farm for special occasions. At this time we have goats, sheep, alpacas, mini horse, cow, pot belly pig and donkeys.
Petting Zoo
Stop by to go in and see the animals.
$5 each to enter all ages
$5 Pony ride(5 minute pony ride)
Party Pricing
1 horse and petting zoo $250.00 1 hour
2 horses and petting zoo $300.00 1 hour
Additional horse $50
Additional Hour $50

You are welcome to set up food, crafts, games and more. Please just let me know when registering.
No Alcohol or tobacco use allowed on premises!